Alfresco Process Services (BPM)
Open, Scalable & Agile Process Services
Alfresco Process Services (powered by Activiti) is an enterprise Business Process Management (BPM) solution targeted at business people and developers. At its core is a high performance open-source business process engine based on Activiti with the flexibility and scalability to handle a wide variety of critical processes. Alfresco Process Services provides a powerful suite of end user tools and integrates with a range of enterprise systems, including Alfresco Content Services, Box and Google Drive.
Ease of Process Definition Development & Deployment
Defining and adapting business processes is key to ensuring success in addressing the ever-changing business requirements. Alfresco Process Services provide a suite of user-friendly tools that make it easy to model, deploy and update critical business processes.
Graphical tools like the Step Editor guides business users to quickly and easily create new process models. BPM analyst can use the powerful BPMN Editor for advanced and powerful process modeling
Point and click Forms and Rules Editors make it easy to define and share process forms and decision tables across processes
Data integration makes it simple to access corporate information and update key business data as part of any process
Watch a brief overview of the Alfresco Process Services architecture & capabilities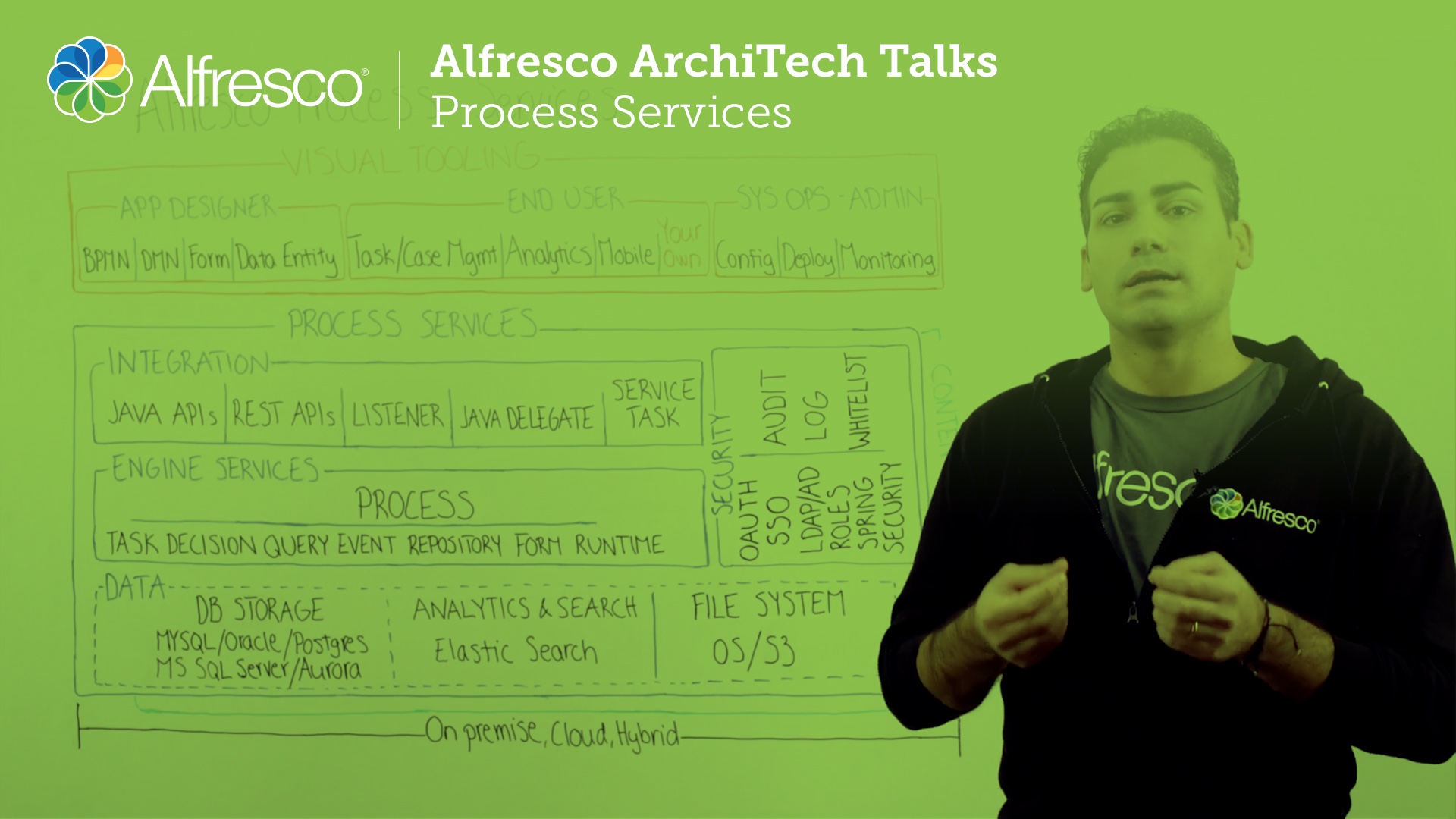 Powerful Task & Case Management
Most BPM solutions are too rigid to allow users to adjust for non-routine situations, which results in slowing the flow of business. Alfresco Process Services enables:
Users to access all information, tasks, and documents to quickly and efficiently complete key business processes
Collaboration with users working as a team to complete tasks. Users can allocate tasks and subtasks to individuals, allowing users to address non-routine tasks
Group and individual tasks inboxes allow organizations to model processes to support a wide range of business scenarios
Empower your mobile workforce and delight customers. Alfresco Process Services' native iOS and Android apps help you operate your business better than ever
Create tasks, get notifications and check the status of open cases
Start new processes and collaborate to resolve cases
Upload pictures, documents, or any other mobile content
Open, Easy to Integrate & Extend
Alfresco Process Services is built around an open source core, with support for open standards and modern development tools enabling easy extention to meet unique business needs.
Support for industry standards (such as BMPN 2.0, and DMN) allow process architects to easy migrate existing process to the Alfresco platform
Java-based process engine and support for open API's makes integrating and extending effortless
A modern, REST-based, architecture makes Alfresco Process Services the platform of choice to orchestrate processes across multiple business applications
Addressing Process Compliance
For companies struggling to meet regulatory requirements, Alfresco Process Services provides the perfect platform to automate key processes and allows a company to strengthen it compliance with corporate processes and industry regulations.
Tight integration with Alfresco Content Services allows processes to drive compliance and records activity. For example: automatically declaring account open documents as records as part of a client on-boarding process
Automated document creation and declaration, with the ability to save process history, enables organizations to automate many of the time consuming activities associated with meeting strict compliance needs
Extensive integration with other line of business applications and content sharing systems (i.e. Box and Google Drive) enables Alfresco Process Services to capture casual content and put it under compliance control
Enterprise Scale & Robustness
Built on Activiti, an open source, Java based process engine, Alfresco Process Services provides a highly scalable platform to drive business processes across the entire enterprise.
Powerful process analytics provides tools to review, analyse and optimize processes to ensure that they are complete as efficiently as possible
Advanced architectural design allows Alfresco Process Services to grow and scale to meet your company's needs
Advanced support for clustering of process engines provides a robust platform to ensure no system outage or application down time
User Experience
Task & Case Management
Alfresco Process Services
Activiti
Dynamic Casework - with user comments, ad-hoc checklists, documents, dynamic form and the ability to involve others easily.
Inline Document Viewer (including MS Office)
User Configurable Filters
Localized UI (10 languages)
Process Analytics
Alfresco Process Services
Activiti
Process Heat Maps & Summary Reports
Task Performance & SLAs Report
Easy to Configure Custom Reports
Customized Business Applications
Alfresco Process Services
Activiti
Alfresco Application Development Framework (ADF)
Mobile
Alfresco Process Services
Activiti
Android Native Mobile App
Custom Web Mobile Apps using Alfresco ADF
Modeling
Forms Designer
Alfresco Process Services
Activiti
'One Click' Model Validation
Extensible Form Toolbox (Stencil Sets)
Rich Form Controls - with multi-tabs, conditional visibility, REST driven control and variable column
Connect to external data sources - including JDBC, Alfresco content repository, custom such as Http and Java data connector interface
Share Import/Export Data Models
Data Models Mapping with Alfresco Content Services
Process Designer
Alfresco Process Services
Activiti
Share, Export/Import Process Models
Configurable Process Toolbox (Stencil Sets)
Web-based DMN Decision Table Editor
DMN Decision Table Library
'One Click' Model Validation
Share, Export/Import DMN Decision Tables
Visual Process Apps Editor
Share, Export/Import Process Apps
'One Click' Process App Publication
Administration
Enterprise System Administration Console
Alfresco Process Services
Activiti
Admin UI for Process Engine Configuration
Process Engine Configuration
Clustering Configuration & Monitoring
Process Instances Monitoring
Multiple Environments Deployments
Advanced Process Instances Search
User Management
Alfresco Process Services
Activiti
Group & Role-based User Capabilities
Apps Manager UI for User Access & Role Configuration
BPM Engine
Alfresco Process Services
Activiti
Industry Proven BPMN 2.0 Process Engine
Built on Spring framework
Multi-Schema Multi-Tenancy
Analytics
Alfresco Process Services
Activiti
Built In Index Engine for Analytics Platform
Configurable Event Listeners
Integration
Alfresco Process Services
Activiti
LDAP and Active Directory Synchronization
Out-Of-The-Box Connectors
Auto Generate Documents (MS office, PDF)
Alfresco Content Services - including upload from and save to, call a content function (i.e. extract metadata, transform image, check-in/out...) and retrieve file properties
Microsoft SharePoint (emulation)
Messaging - including email, Camel, MuleSoft ESB and REST endpoints.
Full Application REST API support
JavaScript Unified API for Process & Content Services (ADF)
Swagger & RAML Productivity Tooling
Security
Alfresco Process Services
Activiti
Advanced control on user-added code (script tasks, beans, dependencies)
Role-based REST APIs Authorization Control
Regular Pen Tests by Industry Experts
Alfresco Services
Alfresco Process Services
Activiti
Hot Fix and Service Pack Program
Defect Escalation and Prioritization Process
Controlled Release Program
Alfresco Certified Training
Alfresco Consulting Services