Enterprise Content Management System (ECM)
Access content wherever and however you work with open, flexible, highly scalable enterprise content management
Alfresco Content Services includes full-featured enterprise content management system (ECM) capabilities that let you work with your content from within the world's leading productivity suites and tools—without switching applications. Take full advantage of modern content services by building applications on the Alfresco Cloud (PaaS).
Alfresco ECM Capabilities
Alfresco Content Services provides open, flexible, highly scalable enterprise content management (ECM) capabilities with the added benefits of a content services platform — making content accessible wherever and however you work through easy integrations with the business applications you use every day.
Alfresco ECM system features
As a flexible, scalable ECM platform, Alfresco Content Services supports a range of use cases including content services, information governance, contextual search and insight, easy integration with leading business applications and much more.
Open, easy to integrate and extend
Built on an open source core with support for open standards and APIs, the Alfresco platform is easy to integrate and customize to meet your business needs.
Open, modular architecture and ReST APIs and SDKs allow you or an Alfresco partner to extend your Alfresco platform to meet business requirements.
The Alfresco Development Framework provides a wide range of highly configurable, reusable components that you can use to create modern, responsive web and mobile end-user applications.
Out-of-the-box support for leading productivity applications, including Microsoft Office, Google Docs, Microsoft Outlook, Salesforce.com and more.
A wide range of pre-built integrations and solutions from the vibrant Alfresco partner community, including SAP, AutoCAD and more.
Scalable, cloud-native architecture
Alfresco's open and modular approach provides you with a scalable content services platform that can handle the growing volume of unstructured content and billions of documents, and a cloud native architecture that lets you take full advantage of content services.
Alfresco integrations let you meet application and compliance storage requirements with your cloud vendor of choice with connectors for Amazon S3, Amazon S3 Glacier and Microsoft Azure.
Automatically enrich content and gain valuable insights with AI and natural language processing with AWS modules like Amazon Textract, Amazon Comprehend and Amazon Rekognition.
Flexible deployment options, including Docker and Kubernetes for fast and standardized deployments across all environments.
How Alfresco Content Services works
See how the key components of the Alfresco Content Services architecture interconnect to provide ECM solutions for managing, sharing and activating content. Understand which technologies are involved, why it matters and the benefits to your organization.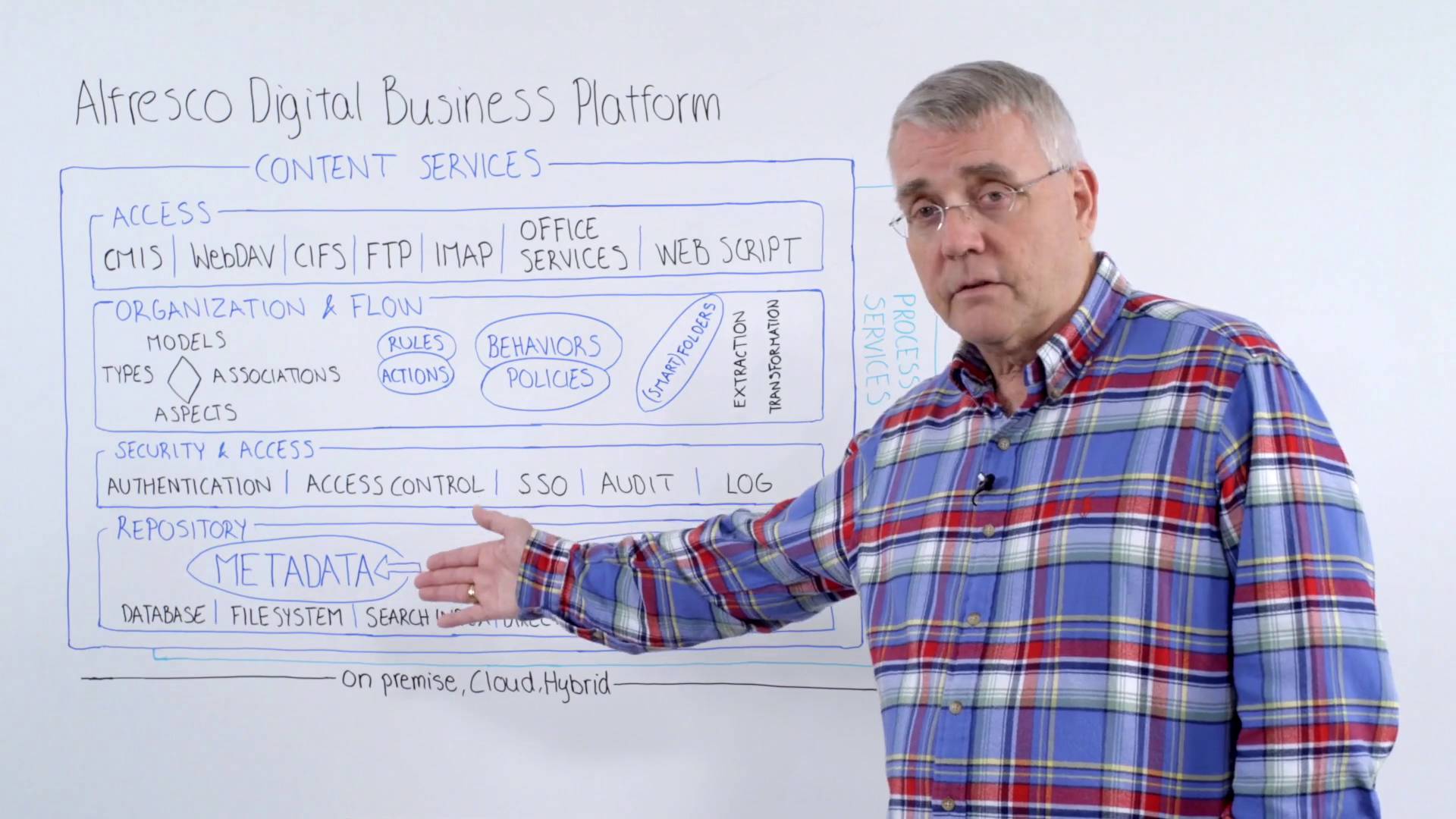 Enterprise search – performance at scale
Find the exact document you're looking for quickly — whether you have thousands of files, or hundreds of millions of files in your document management system.
The Alfresco Query Accelerator features functional query sets to improve search performance at scale by querying properties and aspects of metadata across large volumes of information.
Powerful search features like instant search suggestions and filters let you retrieve relevant content faster.
Alfresco Federation Services offers an easy way to search and manage content across more than 60 world-leading business enterprise document management software applications (like Documentum, OpenText and IBM FileNet).
Enhance information governance
Alfresco Governance Services provide you the ability to simplify and reduce business risk while strengthening compliance. Automate your lifecycle management from capture through retention to final destruction, and remove the complexity of records management from users.
"Invisible information governance" approach allows records to be managed in the background as users continue to work.
Gain a framework to meet records management and open government compliance standards worldwide, including ISO 15489, ISO 16175, FOIA, U.S. DoD 5015.02 CH2 and CH3, EgovG and MoReq.
Easily add a layer of security with security classifications and marks.
Extend collaboration and user efficiency
Empower teams with dedicated project sites and rich collaboration tools and make it easy for them to work on documents together, share knowledge and stay in sync.
Native integrations into common cloud office suites like Microsoft 365 and Google Docs support real-time collaboration and document co-authoring with intuitive out-of-the-box experiences optimized for everyday tasks.
The Alfresco Digital Workspace increases productivity through quick, easy access to files and workplace items and lets you extend applications to meet specific user needs and enhance content management capabilities. Built on the Alfresco Developer Framework.
Alfresco Desktop Sync ensures content and governance policies are synchronized between Alfresco and user desktops, even when working offline.
Alfresco Mobile provides on-the-go, fast access to content and a seamless enterprise content management interface with intuitive controls designed for mobile devices.
Next-gen content services platforms: A cloud-native advantage over legacy ECM
Companies need to move fast, adapt quickly, and innovate continuously. They must satisfy the demands of a modern, distributed workforce and technically savvy customer base. Is your legacy system holding you back? Download this eBook to learn how to rapidly deliver the innovative solutions that users will love and that your business needs to succeed. 
Enterprise content management case studies
Find out how organizations of all sizes and industries have benefited from Alfresco ECM
It's time to take your organization's digital modernization initiatives to the next level!
Join us on-demand as Hyland executives and product leaders demonstrate how to leverage the cloud-native Alfresco content services platform to deliver a faster time to value for your organization. Watch now to learn how to accelerate your digital modernization initiatives!
Enterprise Content Management System FAQ
What is an enterprise content management system?
An enterprise content management system helps businesses capture, manage, store, preserve and deliver the digital and physical information that proliferate across an enterprise, from email to digital videos to paper files and the ever-growing volume of office files. ECM encompasses a range of capabilities that often involve document management, collaboration, workflow and process, and some level of access control. Content services take ECM systems a step further, allowing content to be managed across multiple repositories, and enabling developers to use the most modern approach to developing apps for the business.
What is Alfresco Content Services?
Alfresco Content Services is at the heart of the Alfresco Digital Business Platform, an enterprise-class, cloud-native platform that provides the fastest path for people to interact with information, and for organizations to quickly respond to threats, opportunities and circumstances. Find out how our architecture works by watching our video here.
How can I migrate from an older ECM system?
Businesses are migrating from legacy ECM to modern, cloud-native content service platforms to boost business agility and innovation. Alfresco Migration Services can help mitigate risk and accelerate your migration process. In fact, some customers have successfully completed migration projects in under 6 weeks.
ECM resources
Power up your enterprise content management initiatives with these resources