Information Governance Software
Invisible Information Governance for Effortless Compliance
Information Governance (IG) helps manage the use, security, retention, and disposition of business information. IG is the only way to meet today's strict compliance obligations, and it protects against data loss, reduces security risks, and prevents information overload—saving time and money.
 
Alfresco Governance Services brings an unmatched combination of simplicity and control to Information Governance with open, fully-integrated content and process governance that strengthens compliance. Alfresco has served as a long-time, trusted partner to leading organizations that operate in the most highly regulated industries in the world.
Alfresco Information Governance Software Capabilities
Alfresco offers an unmatched combination of simplicity and control to reduce business risk and strengthen compliance. Alfresco Governance Services automates the information lifecycle from capture through retention to final destruction or archive, and works with little to no intervention by users.
Overcome content governance chaos with automation and intelligence
Download our new ebook for a practical guide to tackling the most common challenges companies face in getting business information under control. Gain insights into the modern approaches and technologies that help make information governance easier, stronger and more cost-efficient. Find out what makes Alfresco a leading provider for organizations worldwide.
Alfresco Information Governance Features and Benefits
Simplicity Through Automated Records Management
Get consistent use—and compliance—with declaration and filing that runs automatically
Business rules and metadata power the automatic declaration and filing of records—little or no user action required
Business Process Management to automate review, approval, declaration and filing
Configurable File Plans provide effortless control over retention schedules—review, hold, transfer, archive and destroy
Integrate Alfresco Intelligence Services to intelligently categorize documents and records
Records remain easily accessible by users (with appropriate controls) without vanishing into an incomprehensible file plan
Experience Automated Records Management Yourself
Start your free online trial of Alfresco Governance Services
Complete Security
Control and preserve the confidentiality of business files and corporate records with a rich set of security features developed in collaboration, over many years, with government and intelligence agencies
A combination of access controls, security clearance levels and security marks offers highly granular control over security and permissions
Complete audit trails allow companies to track who accessed a record, what was done, and when
Easy-to-configure retention schedules ensure that records and files are managed in accordance with data governance and compliance rules
Information Lifecycle Management
Seamlessly store content and records on a range of different storage devices based on regulatory requirements
Integration with on-premises and cloud storage systems (including AWS and Azure) to maximize flexibility and reduce storage costs
Automated content migration across storage tiers includes support for Amazon S3 for general-purpose storage of frequently accessed data; S3 Standard-IA for infrequent access, and S3 Glacier for long-term archive and digital preservation
Transform documents from a range of proprietary formats to PDF/A for long term preservation
How Alfresco's Information Governance Solutions Works
Watch a brief overview of Alfresco Governance Services architecture and capabilities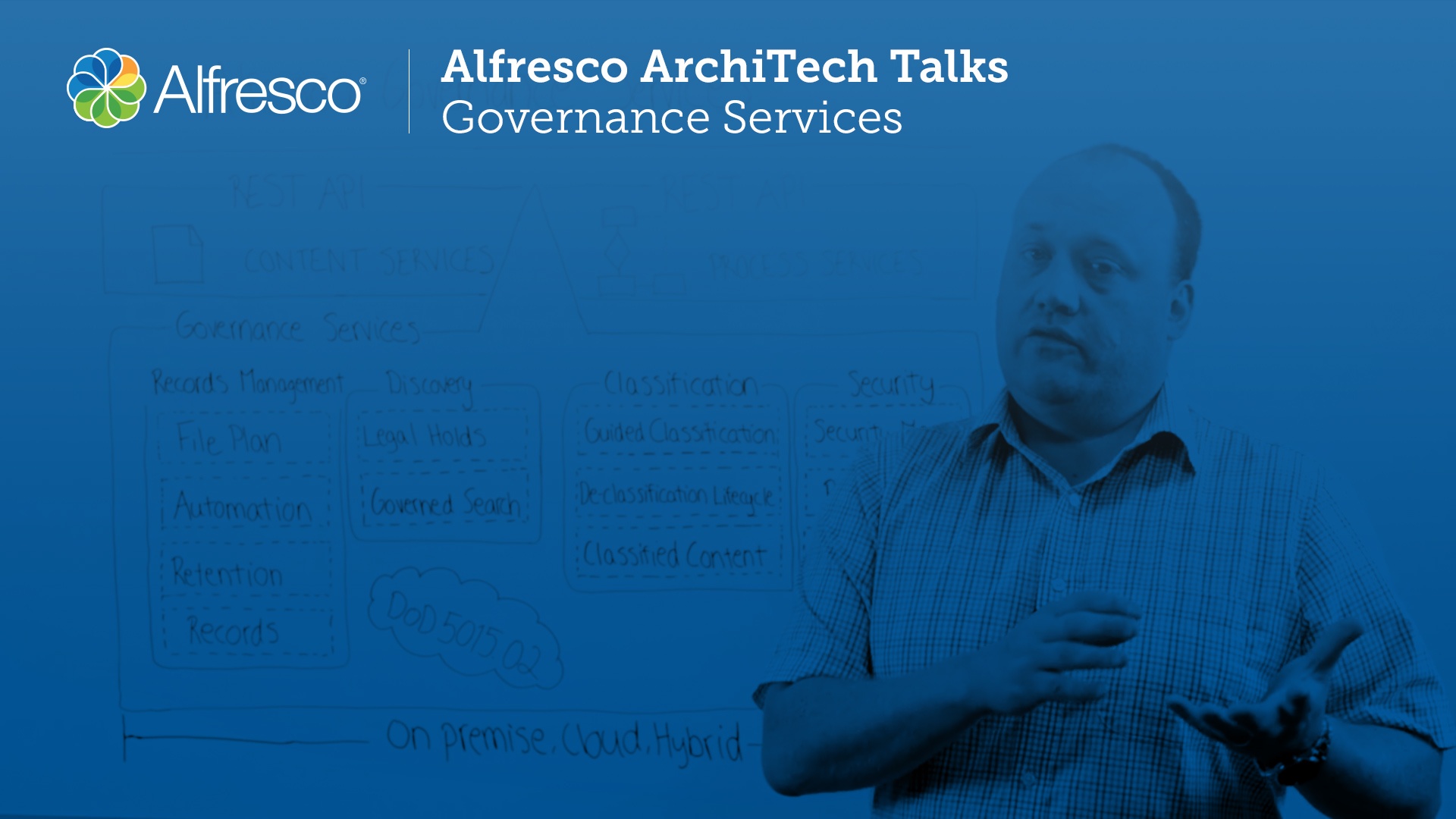 Open Technology for Flexibility
Tackle evolving compliance needs with a platform based on open standards and open source technology, and gain a viable solution for the long term
Access records years, even decades, from now—no proprietary system or format lock-in
Manage records in place in legacy systems without the need to migrate records
Readily integrate new business applications and asset types into your records management process
Evolve business rules and retention schedules as required when new legal or jurisdictional requirements arise
Regulatory Compliance
Meet your compliance obligations in highly regulated sectors such as government, financial services, and healthcare—with a trusted partner.
Simplify and strengthen compliance with the only open-source based records management solution that is DoD 5015.02 CH2 and CH3 certified
Satisfy records management mandates and standards such as NARA/OMB 2016 and 2019, ISO 15489, ISO 16175, MoReq, and VERS
Reduce time and cost of eDiscovery; and place holds on content as needed
Support data privacy laws, such as GDPR, CCPA and Ohio Data Privacy, to ensure legal compliance
It's time to take your organization's digital modernization initiatives to the next level!
Join us on-demand as Hyland executives and product leaders demonstrate how to leverage the cloud-native Alfresco content services platform to deliver a faster time to value for your organization. Watch now to learn how to accelerate your digital modernization initiatives!
Information Governance Case Studies
Find out how organizations of all sizes and from different industries benefit from Alfresco Governance Services
Information Governance FAQ
What is Information Governance?
Information Governance is the creation and maintenance of a logical and consistent framework which provides guidelines, rules and procedures for employees to follow so that data is handled according to governing policies and procedures.
How is Information Governance different from Information Management?
Information Management includes the "how" of managing information that is executed mostly by your IT department. Information Governance focuses on the "why" of information (policies?)
Why is Information Governance important?
Information Governance is all about taking control of business information – not just your unstructured digital content, but also structured data and paper documents. It encompasses the policies, procedures, and technologies that determine how your organization manages, secures, uses, retains, and disposes of this information.
Why do I need Information Governance?
A robust Information Governance program helps your organization comply with laws and regulations, safeguard its data and reputation, and respond efficiently to eDiscovery or Freedom of Information Act (FOIA/FOI) requests. It also prevents information overload by keeping only the most valuable content.
How is Records Management different from Information Governance?
While Records Management (RM) is one aspect of Information Governance, an Information Governance program encompasses broader issues such as data security, Information Lifecycle Management and eDiscovery.