Records Management Software
Seamless records keeping and management that works the way users work
In a rising tide of regulations and government mandates, a vast range of documents and corporate files must be securely locked down, treated as company records, and maintained to ensure compliance with specific procedures and disposition rules. While nearly anything can be considered a "record", the most common subjects of records management include both electronic and physical documents, videos, audio files, images and other types of content.
Experience Automated Records Management Yourself
Start your free online trial of Alfresco Governance Services
"In addition to all of its high-value features, the real prize with Alfresco is its ability to deliver comprehensive Records Management. Once our users are leveraging the solution for collaboration and document management, it's relatively simple for them to make the jump to declaring records using the familiar Alfresco Share interface."

- Franz Weismann, Assistant Director of Information Management and Technology, The New Brunswick Department of Public Safety (DPS)
Alfresco Records Management Software Features and Benefits
Automatic, Invisible Information Governance
Alfresco puts sophisticated technology to work to automate the records management process, making end-to-end processes happen automatically and invisibly. Using the system is easy, and compliance "just happens," with little or no user intervention.
Easy-to-set rules and metadata automatically drive what needs to be declared as a record and where it should be filed in the File Plan, while records remain easily accessible by sanctioned users
Powerful rules and business processes help file, find, review and audit records, saving time for users and administrators
Configurable File Plans provide effortless control over retention schedules for review, hold, transfer, archive and the destruction of records
Supports records declaration directly from your desktop with Desktop Sync for Alfresco Governance Services—for Windows and macOS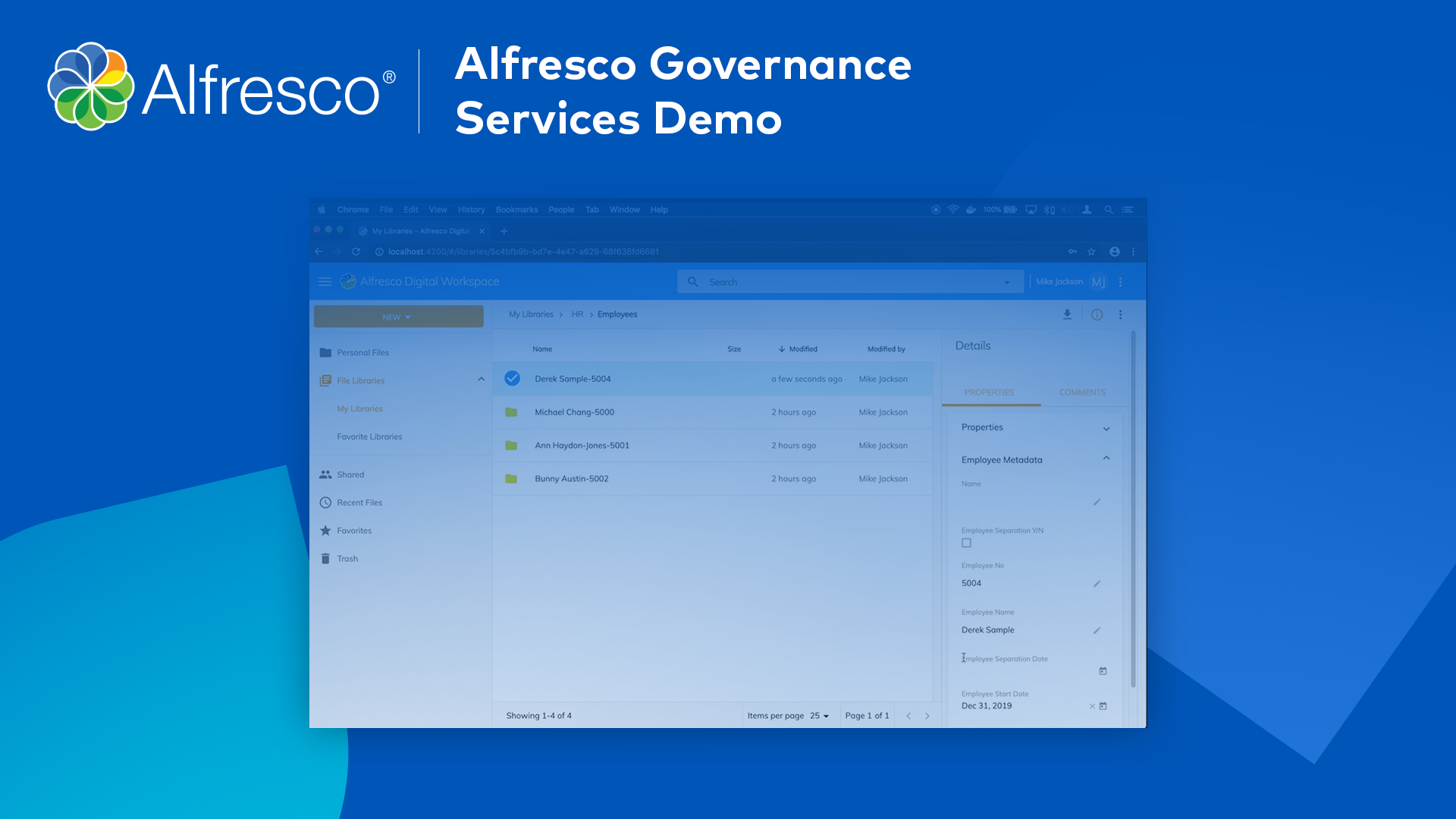 Overcome content governance chaos with automation and intelligence
Download our new ebook for a practical guide to tackling the most common challenges companies face in getting business information under control. Gain insights into the modern approaches and technologies that help make information governance easier, stronger and more cost-efficient. Find out what makes Alfresco a leading provider for organizations worldwide.
Keep records and manage them in place
Manage records in their current locations ("in place"). Gain centralized control over content and records distributed across different systems, without costly content migration.
Centralize the creation and maintenance of your file plans and retention schedules; apply them consistently across legacy applications
Provide customized search views and conduct federated searches across legacy systems for eDiscovery or hold requests and export in the EDRM XML format into review tools
Manage records across a range of systems with 70+ connectors including Microsoft Office 365, Microsoft SharePoint, Microsoft Exchange, Google Mail, OpenText, Documentum, IBM FileNet, SAP, Salesforce.com, Box—and a host of others
Manage in place, migrate on-demand or migrate with the manage-in-place connectors
Learn more around Alfresco's Content Federation and Manage In Place capabilities
Legal Holds
A Legal Hold is an activity in which the typical disposition or processing of a group of records is paused in light of an active or anticipated investigation such as an audit or litigation. Part of the eDiscovery process, a Legal Hold is a way to ensure the preservation of key data. With Alfresco Governance Services, Legal Holds can be managed more efficiently, with less cost.
Reduce the time and cost of eDiscovery with powerful search capabilities
Put records on multiple holds to prevent changes and suspend disposition as part of the hold process
Learn more how Alfresco can help you with eDiscovery and legal holds
Alfresco Information Governance Capabilities
Records Management FAQ
What is Records Management?
Records Management controls important business information that needs to be retained over time. It's used in highly regulated environments, for managing governmental information, financial documents, legal files or personnel records, or where information might be audited.
Why is Records Management important?
Records Management ensures that important records – those of vital historical, fiscal, or legal value – are identified and preserved, and that non-essential records are discarded in a timely manner according to established guidelines.
What are the benefits of Records Management?
The Benefits of Records Management include more effective management of your current records (both paper and electronic); a reduced/eliminated level of recordkeeping redundancies; reduced costs for records storage equipment and supplies; and increased usable office space through the elimination of unnecessary file storage. In addition, Records Management provides institutional accountability and timely access to information.
How can Alfresco help me with Records Management?
Alfresco Governance Services provides Records Management fully integrated into Alfresco Content Services. This makes it easy to work with files and have them declared as records at the right time – without changing the way your users work.